No matter how careful you are with your renal diet there are going to be times when you're not able to prepare all your meals from home. You may be wondering what fast foods are safe for kidney disease.
It's important to plan ahead and, if possible, pack your meals from home to take with you. But we get it. Sometimes there are days that you just can't do that. You may be traveling, driving around to appointments, taking kids to activities, or just plain tired of cooking.
It's okay for people with kidney disease to eat fast food on occasion, but there are several considerations to keep in mind.
Read on to find out more about what to consider when eating fast food when you have kidney disease, how often it's okay to eat fast food, what fast food restaurants have kidney friendly options, and ideas on what to order.
At the completion of the article you can download our FREE guide on fast foods that are safe for kidney disease.
Considerations when eating out
There are several things to consider when eating fast food when you have kidney disease. The main concerns here are sodium, phosphorus, protein, and potassium.
Sodium
Generally, whenever we eat out it's likely to be higher in sodium than home cooked meals. Keep this in mind when you're deciding what to eat for the other meals throughout the day. Try to have these meals as low in sodium as possible.
Excess sodium can cause increased blood pressure, fluid retention and swelling. Most people with kidney disease will need to limit sodium in their diet. Guidelines for kidney disease suggest limiting sodium intake to no more than 2,000mg per day.
Phosphorus
The other concern with fast food when you have kidney diseases is that many restaurants have processed foods that contain added phosphorus.
When you have kidney disease, phosphate additives impact your phosphorus levels a lot more than when the phosphate is naturally in a food. So keep in mind when determining what fast foods are safe for kidney disease.
Potassium
Like phosphorus, fast food restaurants also use ingredients that may have added potassium. If you need to limit the amount of potassium in your diet, it's important to keep this in mind as well.
In my experience, most people in earlier stages of kidney disease (stage 1-3) don't need to limit potassium in their diet unless they have had a high potassium level in the past.
Protein
When you have early stages of kidney disease and don't require dialysis, you need to limit the amount of protein in your diet. Consider if the fast food restaurant offers any plant-based or vegetarian options.
How often is it okay to eat fast food when you have kidney disease?
Fast food doesn't provide the best nutrition for your kidney health. We want to be really mindful of what we are putting in our bodies. I don't know about you, but the more I eat fast food, the more I want it. If this is true to you too, be mindful of this so you don't make eating out a habit.
Limiting fast food to once a week or less shouldn't derail your kidney health goals significantly. Making wise choices at fast food restaurants will be important for your kidneys.
Ordering Tips
Have a Plan
Whenever possible, look at the restaurant's menu online before you go so you are prepared and have an idea of what to order.
This will give you time to analyze the meal options and help you decide what you want to eat without the pressure of ordering right away.
Nutrition Facts
While you're looking at the menu items online, also look to see if any nutrition facts are offered on the menu items you are considering.
You'll want to look for how much sodium, protein, and saturated fats are in each serving of the menu item.
Ingredient List
Some restaurants will offer an ingredient list for the menu items. Many are now disclosing ingredients due to customers that have food allergies. If they offer a list of ingredients, make sure it doesn't have any phosphate or potassium additives.
One trick is to scan for anything that has "phos" in the name of the ingredients. If you do see "phos" then you will know that food contains added phosphates. Same with added potassium.
Phosphate Binders
If you have chronic kidney disease, your doctor may have prescribed phosphate binders for you to take with your meals and snacks. Phosphate binders act like a sponge and absorb the phosphate in food you eat to keep your phosphorus levels at normal range.
Timing is important with phosphate binders. You want to take them anytime you are eating your meal to get the best phosphorus outcomes possible. Knowing that fast foods are likely high in phosphorus, it may be a good idea to take an extra phosphate binder when eating out.
Your Renal Dietitian can teach you more about phosphorus and how to take binders appropriately.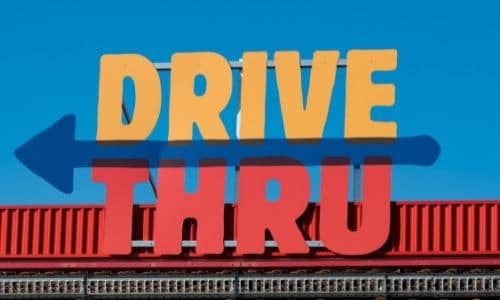 Best fast foods that are safe for kidney disease.
I picked a few of the most common restaurants that offer fresh ingredients and customizable menu items.
Panera Bread
You can customize most menu items. They provide nutrition facts and an ingredient list for all menu items. These are the top menu items to order if you have kidney disease.
Mediterranean Veggie. It's low in saturated fat and doesn't have any added phosphates. Omit the Feta cheese to reduce the sodium content further.
Greek Salad. Ask for no salt and the dressing on the side. Omitting the Feta cheese will reduce the sodium content.
Caesar Salad. Only 620 mg of sodium in a whole order salad. 6g of Saturated fat and 10g protein. Ask for dressing on the side.
Vegetarian Autumn Squash Soup. This soup contains winter squash and pumpkin seeds which are high in potassium. If you need to limit your potassium intake, this menu item isn't for you.
Ten Vegetable Soup. Choose the cup size to reduce the sodium content.
Chipotle
If you're craving some Mexican fare Chipotle is a perfect choice to order a meal that is completely customizable. Here are some ideas for a kidney-friendly meal.
Kidney-friendly toppings
Sofritas (seasoned tofu)
Black beans
Pinto beans
White or brown rice
Fajita vegetables
Tomato salsa
Roasted chili-corn salsa
Guacamole
Tomatillo green-chili salsa
Romaine Lettuce
Sour cream
Renal dietitnian tip
Don't order a burrito! One tortilla used for the burrito has 600mg of sodium, not including toppings! Order a burrito bowl, crispy corn tortilla, or a salad instead of a burrito.
Burrito Bowl. Add in your favorite kidney-friendly ingredients in a burrito bowl for lower sodium options
Crispy Corn Tortilla. Order any of the kidney-friendly toppings in a crispy corn tortilla tacos for a lower sodium meal.
Salad. Pile the kidney-friendly toppings on top of a bed of crispy romaine lettuce for a lower sodium and calorie option.
Subway
With endless options to load on the veggies, Subway is a perfect choice for a kidney-friendly fast food meal.
Kidney-friendly fillings
Lettuce
Spinach
Green Peppers
Cucumbers
Tomatoes
Onions
Avocado
Oil & Vinegar
Mustard
Spicy Mustard
Mayo
Breads
9-grain wheat
9-grain honey oat
Harvest
Renal RD tip. Avoid the wraps due to the high sodium content.
Kidney-friendly Subway Sandwiches
Veggie Delight. With 320mg sodium, 8g protein makes the Veggie Delight an optimal choice for kidney-friendly fast food order.
Veggie Patty 640 mg sodium, 14g protein makes this options the runner up.
Tuna 650mg sodium, 19g protein
Fresh Fit Salads. Any salad with oil and vinegar, chipotle southwest, or Subway vinaigrette.
Noodles and Company
Noodles and Company allows you to customize your pasta which is so helpful to control sodium content. You can also add any fresh vegetable to your dish.
Kidney-friendly options
Mushrooms, white
Spinach
Cabbage blend
Cucumber
Snap peas
Roma Tomatoes
Broccoli
Carrots
Red Onion
Peanuts
Cilantro
Green Onion
Avocado
Sweet Corn
Renal RD tip: Ask for no cheese and avoid the olives, roasted mushrooms and zucchini due to high sodium content.
Penne Rosa Small, add all the kidney-friendly veggies you like with no parmesan cheese 380 mg sodium, 10g protein
Pesto Cavatappi Small with add all the kidney-friendly veggies you like has 390 mg sodium, 9g protein
Buttered Noodles Regular and add all the kidney-friendly toppings you like 430 mg sodium, 19g protein
McDonalds
McDonald doesn't have much in the terms of fresh veggies, but there's a McDonalds almost on every road side exit so I thought I'd include it incase you just can't avoid it.
Breakfast
Fruit and Maple Oatmeal has 150 mg of sodium and 6 grams of protein which makes this a decent kidney-friendly breakfast. Ask for no cream due to added phosphate in that ingredient.
Sandwiches
These options have 580mg sodium and 16 g protein each or less making them a decent fast food choice that is okay for kidney disease.
Hamburger
Filet-O-Fish sandwich
Desserts
These are desserts so they will have added sugars. Make these choices only on occasion.
Baked Apple Pie
Vanilla Cone
Drinks
Keep in mind adding flavor to coffee drinks increases the sugar content significantly and will likely have added phosphates.
Order without the flavor to help reduce your sugar and phosphorus intake. French vanilla flavored cappuccino and latte have no added phosphates, but they do have added potassium.
Cappuccino
Latte
Americano
Premium Roast Coffee
Starbucks
Kidney-friendly meals
Classic or Hearty Oatmeal 130 mg sodium, 8 g protein
Croissant. Butter or Chocolate 320 mg sodium, 5 g protein
Cheese Danish 400 mg sodium, 7 g protein
Prosnax. They all have 250 mg sodium, 15 g protein each.
Eggs & Cheddar Protein Box 460 mg sodium, 23g protein
Cinnamon Raisin Bagel with cream cheese 370 mg sodium, 9 g protein
Coffee Drinks
Renal RD tip: Ask for a tall size and ½ of the flavor syrup to cut down on the sugar content.
Brewed coffee or tea
Americano
Caffe Misto
Cappuccino
Caffe Latte
Flat White
Honey Almondmilk Flat White
Cold Brew Coffee with milk
Final Thoughts
It's okay for people with kidney disease to eat fast food on occasion, but there are several considerations when eating out. Keep in mind that you're more likely to consume way more sodium, phosphorus, potassium and added sugars when eating fast foods than meals made at home.
Having a plan before you go out to eat can help you make the best food choices for your kidney health. Look at the menu items and nutrition information offered on the restaurant's website to help you decide what to order ahead of time.
If you take phosphate binders, remember to take them with you when you go out. It may be a good idea to take an extra binder with your meal because fast food tends to be higher in phosphorus. I hope this has helped you determine what fast foods that are safe for kidney disease.
Don't forget to download your FREE CKD Fast Food Guide.
You might also like these related articles.
What is the Best Cereal for Kidney Disease?