Are you looking for a satisfying breakfast that is quick and easy, full of nutrition to give you energy for the day? Maybe you just need something to eat in order to take your morning medications or a little something before you head out the door for dialysis treatment. Then cereal may be a great option for you! But you may be wondering what is the best cereal for kidney disease.
Why breakfast is important?
We've all heard that breakfast it the most important meal of the day. It breaks the fast that your body has gone though while you were sleeping for several hours and provides the initial nutrition your body will use to get started for the day.
Why cereal is a good option for breakfast?
Many of my patients and clients tell me they aren't big breakfast eaters. They can't eat very much before coming to dialysis treatment or just don't have the time to make a large breakfast in the morning before going to work or doctor appointments.
In these cases, cereal makes a great option for people with kidney disease. It is quick and easy to make, very little cooking or prep is required, and there are various options to choose from.
It is important to know what to look for on the food label to help you decide if a particular cereal is the best cereal for kidney disease. Cereal doesn't have to be limited to just breakfast, it also makes a great option for a healthy snack too!
What to look for on the food label?
So what do you need to look for on the food label to determine if it is the best cereal for kidney disease?
Serving size
Serving size is important because it determines how much nutrients you will consume in that particular portion. If you have more than the suggested serving size, then you will have more of the listed nutrients provided on the food label.
Serving sizes for cereal can vary greatly depending on the type of cereal and if it needs to be cooked or ready to eat.
I recommend measuring out the suggested serving size a couple of times in the same bowl. Then eventually you will be able to eye-ball it and have an idea what the serving size actually looks like in your cereal bowl.
You may need to go back and measure again after a while to check and make sure you are in the serving size ball park.
Sodium
Nearly everyone with kidney disease will need to limit sodium in their diet. Too much sodium increases your blood pressure and causes fluid to accumulate in the body which results in swelling. Sodium is required to be listed on the food label.
A low sodium food item will have 140 mg of sodium in one serving. Many quick cooking/instant flavored cereals will be higher in sodium than cereals that do not have any flavors added. This is particularly important with hot cereals.
Fiber
Most Americans do not consume enough fiber.(1) Fiber helps feed the good bacteria in the gut, helps with gut transit time, and keep you feeling full and satisfied after eating a meal.
For men the recommendation is 38 grams per day and for women the recommendation is 25 grams per day. If you are looking for the best cereal for kidney disease, you want to choose one that has at least 2 grams or more of fiber per serving.
Sugar
Many cereals are loaded with sugar. It's important to make note of how much sugar is added to a food item.
Although sugar makes foods taste good, added sugar doesn't provide nutrients only extra unwanted calories. If you have diabetes, it's important to limit sugar as best you can to avoid spikes in your blood sugar.
When looking at the label you will see the total sugars and below that, the added sugar. You want to make sure the added sugar is as low as possible, less than 12 grams per serving.
Protein
Depending on if you have chronic kidney disease or end-stage renal disease, your protein needs will vary greatly. Whole grains provide a good option for plant protein and this is particularly beneficial for people with chronic kidney disease.
Some cereal will add protein to make it a high protein cereal which is beneficial to people on dialysis as their protein needs are significantly higher.
Ask your dietitian about your individual protein needs as it varies from person to person. For the purpose to this blog post we will keep protein at 5 grams or less per serving.
Potassium
Like protein, potassium needs will vary from person to person depending on the stage of kidney disease and lab values. Rule of thumb is to keep potassium under 300mg per serving.
Potassium is not required to be listed on the food label. Sometimes it will be listed in the nutrition facts label as grams or a percent.
If you need to limit potassium in your diet look at the ingredient section of the food label and make sure potassium is not an added ingredient.
Phosphorus
This is another ingredient to pay attention to if you have kidney disease.
Phosphorus is found naturally in may foods especially whole grains. If phosphorus is found naturally in foods our bodies will absorb about 40-60% of that type of phosphorus because we do not have the enzyme phytate to help with the absorption. However, if phosphorus is added to a food item, out bodies absorb 100%.(2)
Like potassium, phosphorus is not required to be listed on the food label. The best cereals for kidney disease do not have added phosphorus, so look at the ingredient section to make sure there are no ingredients that contain "phos".
What types of cereal are the best for kidney disease?
The cereal options for you will depend on your lab work, your kidney health goals, and your food preferences. Checking the food label is always recommended because various brands can differ.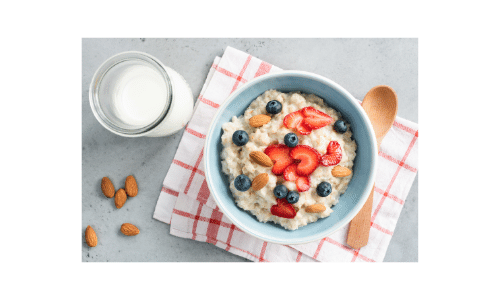 Hot cereal options for kidney disease
Oatmeal
Grits
Oat bran
Quinoa
I found that Cream of Wheat and Cream of Rice have added phosphate in the form of ferric orthophosphate.
Cold cereal options for kidney disease
Wheat
Rice
Corn
Oats
Bran
Add-in Ideas
Cereal is good by itself but to boost the nutritional content of your breakfast you want to add-in some other food groups to round out and balance your breakfast.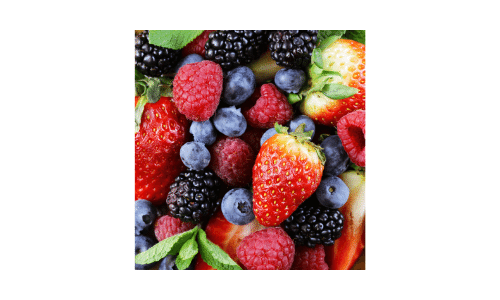 Fruit
Fruit will add more vitamins, minerals, antioxidants, and phytochemials to your breakfast cereal. Some fruits have a lot more potassium than others. If you are on a low potassium diet, choose low potassium fruits to add to your cereal. *indicates a high potassium fruit.
Strawberries
Blueberries
Raspberries
Blackberries
Cherries
Bananas*
Fresh Pears*
Canned pears
Fresh Peaches*
Canned peaches
Dried fruit*
Mangos*
Nuts and seeds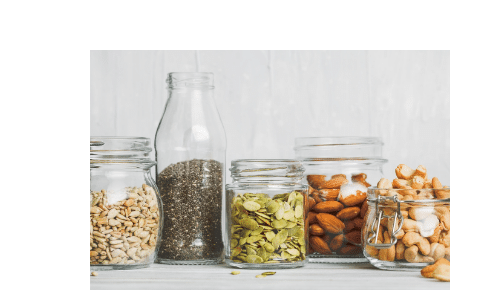 These will add will add some healthy fat and fiber, but contain naturally occurring potassium and phosphorus. Depending on your kidney health needs the type and portion size may vary. The portion size for nuts and seeds is 2 tablespoons.
Ground flax seed
Chia seeds
Hemp seeds
Sliced almonds
Pecans
Walnuts
Peanuts
Milk
You can't forget the milk especially when adding it to cold cereal. With hot cereal, water will do for cooking. Cow's milk has naturally occurring potassium and phosphorus. Plant milks are also a great option.
Be sure to check the food label for any added potassium or phosphorus. This will vary depending on the brand and type of milk. Protein content is another thing that will vary depending on the type of milk.
Cow's
Almond
Soy
Cashew
Coconut
Oat
Flax
Best cereal for kidney disease
Criteria for the best cereal for kidney disease are:
Sodium: 250mg or less, Fiber: 2 grams or more, Added sugars: 12 grams or less Protein: 5 grams or less, Potassium: 300mg or less, Phosphorus: No added phosphates
Best hot cereal for kidney disease
Hot cereals are perfect to customize your add-ins!
Quacker Oats unflavored (old fashioned, steel cut, quick cooking)
Quacker Grits unflavored
Bob's Red Mill Oat Bran
Nature's Path Organic Instant Oatmeal (Blueberry Cinnamon Flax and Brown Sugar Maple)
Bob's Red Mill 10 Grain Hot Cereal
Best cold cereal for kidney disease
Cascadian Farms Organic Hearty Morning Fiber
Total with Whole Grain Flakes
Kashi (Strawberry Fields, Island Vanilla, Cinnamon Harvest, Honey Toasted, Warm Cinnamon)
Honey Bunches of Oats
Kix
Oatmeal Squares
Fiber One
Nature's Path Organic Heritage Flakes
Wheaties
Kellogg's (Red Berries, Fruit and Yogurt, Vanilla Almond)
I hope these will give you plenty of options to choose from so you can feel confident in choosing the best cereal for your kidney health!
Need a quick and easy breakfast? Check out this yummy Strawberry Peanut Oatmeal Bowl recipe.