Snacks have a bad wrap because many convenient options are highly processed. They offer excessive amounts of sodium, saturated fat, and food additives that may not be the best choice for your kidney health. When you have chronic kidney disease, feeling confident in knowing what renal diet snacks to choose that are helpful for your kidneys is important.
Benefits of Snacks
Some people with CKD may have a decreased appetite, lose interest in food, or have difficulty meeting their nutrition needs with meals alone. Snacks are a great way to assist in meeting your nutrient requirements to help maintain your kidney health. They sustain your energy levels during exercise and help you recover after performing physical activity.
Healthful snacks can improve the quality of your renal diet to meet the recommended food group servings. If you have Diabetes, snacking can help maintain blood sugar levels.
Having healthy kidney-friendly options on hand prevents you from overeating at meal times and reaching for the unhealthy choices.

Tips for Renal Diet Snacks
When you have kidney disease, there is no one size fits all and your diet should be individualized. Working with a renal dietitian will help you understand what foods to choose for your own kidney health.
Sodium, potassium and phosphorus are some nutrients you may need to pay attention to. Planning is important. Prepare your snacks ahead of time. This will prevent you from reaching for unhealthy options and set you up for success when hunger strikes.
Pay attention to portion sizes. Even though you are consuming healthy choices, it doesn't mean that you should eat a large amount.
Calories
If you need to boost your calorie intake, look for snacks that have 150-300 calories per serving. Your kidneys love fruits and vegetables! So make sure you pair a fruit and or vegetable with your snack.
Sodium
Foods that have 140 mg or less of sodium per serving is considered low-sodium. Making low-sodium snack choices will help with blood pressure control, fluid balance, and prevent bloating.
Additives
Healthy renal diet snacks for chronic kidney disease should not contain any added potassium or phosphates. Look in the ingredient section of the food label and make sure you don't see any of these additives.
Renal Diet Snacks
*Please note that this post contains clearly identified affiliate links.  As an Amazon affiliate, I may earn a small commission on qualifying purchases (at no extra cost to you).
Crunchy
Nothing is quite as satisfying as a loud crunchy snack. But they tend to have a lot of sodium in with that crunch. Read the food label and look for less than 140 mg per serving.
Popcorn is a great way to feel like you are eating volume and an excellent source of fiber. The average serving size for popcorn is 3 cups. Look for lightly salted brands like Skinny Pop or make your own at home. Customize your toppings by adding Nutritional Yeast or Italian seasoning on top.
Tortilla Chips that are lightly salted with no more than 140 mg per serving. Food Should Taste Good Multigrain Tortilla Chips is a great option.
Nuts- choose no added salt and pay attention to serving size. The average serving size for nuts is 1/4 cup so it's very easy to over eat on such a small serving size.
Pretzels- 1oz. serving can contain up to 450 mg of sodium. Choose unsalted pretzels like Snyder's Unsalted Mini Pretzels to make sure you're not exceeding your sodium intake for the day.
Crackers– look for the sodium content and no added phosphates in the ingredients like Blue Diamond Nut Thins.
Raw Vegetables are perfect snacks for your kidneys! Carrots, celery, radishes, and cucumber make perfect crunchy renal diet snacks.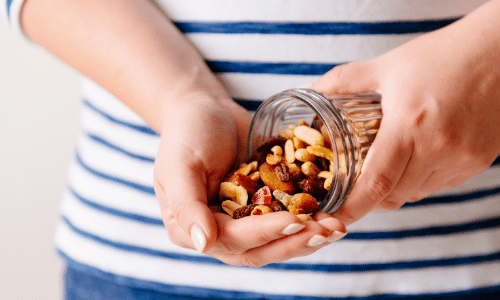 Sweet
There are plenty of snacks to satisfy your sweet tooth. It's important to pay attention to the amount of added sugar on the label if you're watching blood sugars. It's best to choose snacks that have naturally occurring sugars.
Yogurt there are plenty of plant-based options. Look for no added phosphate in the ingredients. So Delicious Coconut milk yogurt is a great kidney-friendly choice.
Fruit:Your kidneys love fruit and your choices are endless!
Smoothies:Make a kidney-friendly smoothie with plant-based yogurt or milk, frozen berries, and a handful of spinach. It's a perfect on the go snack to hold you over for your next meal and packed full of kidney-friendly nutrition.
Snack bars: You can find some kidney-friendly prepackaged snack bars or make your own at home. These are a perfect on-the-go snack to pack in your purse or bag when you need a little something to carry you through to keep your energy up throughout the day. That's It and Larabars are both kidney-friendly snack bars.
Energy ball and bites: I love making my own at home. They seem to disappear quickly in my house, so I usually make a double batch. There are some kidney-friendly pre-packaged options as well. Careful with portion size with these. The average portion is 1-2 snack bites! Frooze Balls Plant Protein Powered Vegan Snacks and Protein Power Ball are both great plant-based snacks for the renal diet.
Frozen fruit bars will cool you down on a warm day. GoodPop is a kidney-friendly option. The first ingredient is fruit. Keep in mind that anything that melts down to a liquid at room temperature is considered a fluid. So if you need to limit how much fluid you consume a day, make sure you count this toward your intake for the day. Most frozen fruit pops will be anywhere from 1/4-1/2 cup (2-4 fl.oz.) per serving.
Savory
Dips are a perfect vehicle for incorporating more veggies and make perfect renal diet snacks. Take those crunchy veggie ideas and dive them into some of these yummy kidney-friendly dips.
Hummus: Homemade hummus is your best bet to avoid added phosphate, potassium and sodium, but there are some decent pre-packaged options. Check out this super easy homemade Roasted Red Pepper Hummus recipe.
Guacamole: Dip in your low-sodium tortilla chips or veggies and you have yourself a great kidney-friendly snack with heart healthy fats that avocado provides. It is high in potassium, so you may need to especially pay close attention to portion size here. 1/4 of an avocado is a serving.
Bean dip: Pair with your favorite crunchy snack and you got yourself a kidney-friendly snack packed full of protein and fiber to keep you going. Homemade is best as most ready to eat dips have a lot of sodium and added phosphorus.

Summary
Snacks are certainly a great way to bridge the nutrient gap where your meals may be lacking. They help you to increase the nutrient density in your diet to keep your kidneys healthy. Keeping kidney-friendly snacks on hand helps you from turning to unhealthy choices.
Paying attention to sodium is the main challenge, but there are plenty or renal diet snack options to choose from whether you go for the prepackaged snacks or make them yourself.
Reading the food label and paying close attention to serving size, sodium, added potassium and phosphate is a must to make smart kidney-friendly choices.