Hummus originates in the Middle East and now has become popular in America with the growing acceptance of the Mediterranean diet.
It's typically made with chickpeas, tahini, garlic, olive oil, and lemon juice (1) which makes it naturally work well in plant-based, kidney-friendly diets!
It can be used as a dip, spread, or condiment. Considered a healthy food, however, many store bought options have a hefty dose of sodium and possibly added phosphate which are minerals that need to be limited in a kidney-friendly diet.
The average store bought hummus has 250mg of sodium per ¼ cup. This recipe has 91mg per ¼ cup saving you almost 160mg of sodium per serving!
Store bought hummus is super convenient, but if you haven't had homemade hummus you are in for a treat! Let's dive in!
What You'll need
Equipment
A food processor is a must in order to blend the ingredients until smooth. If you don't have a food processor you can use a high powered blender.
Chickpeas
This recipe uses low sodium canned chickpeas. If you can't find a low sodium version you can rinse canned chickpeas under running water in a colander for one minute and this will reduce the sodium content by half.
Chickpeas are a good source of plant based protein and fiber which are both important for kidney health.
Tahini
Tahini is sesame seed paste and a staple in hummus recipes. It comes in a jar and is usually found in the same aisle as peanut butter at the grocery store.
Roasted Red Peppers
This recipe calls for jarred roasted red peppers but you certainly can roast your own red peppers in the oven. Jarred roasted red peppers are convenient. The Mezzetta brand has 105 mg of sodium per serving but won't increase the sodium content in the recipe significantly.
When using jarred red peppers, look for a low sodium version that has less than 140 mg of sodium per serving.
Other ingredients in this recipe are lemon juice, olive oil, garlic, and cumin.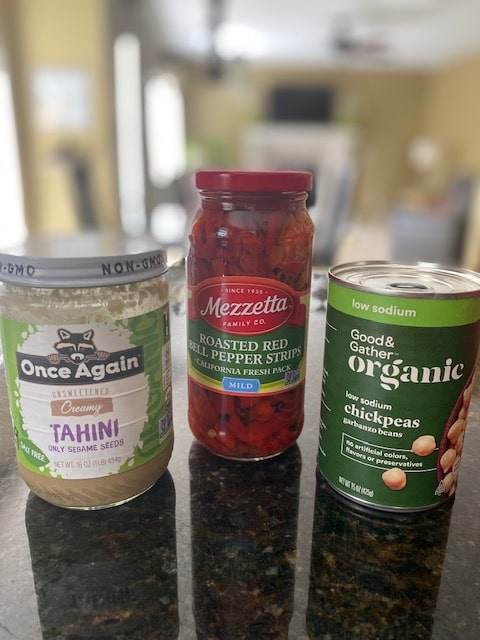 How to make
Homemade hummus is really easy to make. Just simply dump all the ingredients into a food processor or blender and process until smooth.
Variations
This recipe calls for red peppers but you don't have to add them. You will make a classic garlic hummus without the red peppers.
Some other flavor options are adding in pine nuts, jalapenos, artichokes, spinach, and salsa.
Another idea is to use hummus as a base for a layered dip. Spread it in an 8×8 dish and layer additional desired ingredients on top.
For a Mexican style hummus layer on top dice bell peppers, quartered cherry tomatoes, chopped scallions, minced jalapenos, and chopped cilantro. Serve with low-sodium tortilla chips.
Feeling like some Italian flavor? Stack on top chopped artichoke hearts, chopped spinach, diced tomatoes, and chopped basil.
For a Mediterranean boost, top hummus with diced cucumbers, diced tomato, and small garnish of crumbled feta cheese or diced katamala olives.
How to store
Store in an airtight container in the fridge for up to one week.
What to serve with
Crunchy vegetables like carrots, cucumbers, sliced peppers, radish, fresh green beans, jicama, and celery are all kidney-friendly veggie options.
Other ideas are toasted pita bread, crackers, and tortilla chips. Be sure to opt for low sodium versions to keep your sodium intake in check.
Need more snack ideas? Check out Healthy Renal Diet Snacks for CKD.
Roasted Red Pepper Hummus
Low sodium red pepper hummus
Ingredients
1

15-ounce

low-sodium canned chickpeas

drained

1/3

cup

tahini

2/3

cup

jarred roasted red peppers

chopped

3

tbsp

lemon juice

2

tbsp

olive oil

extra virgin

2

cloves

garlic

1/2

tsp

ground cumin
Instructions
Add all ingredients in a food processor and process until smooth, scraping the sides as needed.
Nutrition
Serving:
2
tablespoons
Calories:
70
kcal
Carbohydrates:
6
g
Protein:
2.4
g
Fat:
4.7
g
Saturated Fat:
0.6
g
Polyunsaturated Fat:
0.2
g
Monounsaturated Fat:
1.3
g
Sodium:
45.7
mg
Potassium:
4.4
mg
Fiber:
2.3
g