This kidney-friendly recipe for power salad packs a punch of plant protein. It has quinoa and edamame which are both complete plant sources of protein.
A complete protein source has all 9 essential amino acids that our body can't make on it's own so it needs to get it through food.
When transitioning to a plant based lifestyle, many people with kidney disease are concerned if they will meet their daily protein requirement.
It's important to discuss your individual protein needs with a renal dietitian. The type of protein you consume is also very important when it comes to kidney health.
If you aren't on dialysis you can benefit from plant sources of protein over animal sources. This Ginger Lime Power Salad contains plenty of plant protein that your kidneys will benefit from.
What you'll need
Quinoa
Quinoa is actually a seed and a complete protein source. It can be substituted for rice and other whole grains in recipes. It's a good source of protein and fiber. You can find many different varieties quinoa; the most common white, red, and black.(1)
Edamame
Edamame is a legume that is a type of soybean. Unlike other soy products, it doesn't need to be processed. You can find it shelled or in pods in the freezer section by the vegetables in most grocery stores.(2)
Coconut Aminos
Coconut Aminos is a low sodium substitute for soy sauce. It's made with the sap from a coconut tree. It has 73% less sodium than soy sauce. (90mg of sodium per teaspoon). You can find it in the condiment aisle of the grocery store usually by the soy sauce!
Sesame oil
This provides a nutty flavor and aroma to the dish. You can find sesame oil in the condiment, baking, or international aisle in the grocery store.
How to make
Start out by preparing the quinoa according to the package instructions. You can also just use leftover cooked quinoa if you have it ready to go in your fridge.
In a large pan saute the garlic in sesame oil to get the aromatics going. Then you will add the peppers and cook until soft. Add in the mushrooms and coconut aminos. When the mushrooms are cooked until soft, add in the cooked quinoa, edamame, ginger and lime juice. Smells so good!
Variations
This recipe has kidney-friendly vegetables like bell peppers, mushrooms, and red cabbage. However, cooked mushrooms are high in potassium. If you are following a low potassium diet, I recommend substituting the mushrooms with zucchini.
If you don't like quinoa or can't find it, you can substitute with wild rice, brown rice, or farro for this recipe.
How to store
After making the Ginger Lime Power Salad, you can serve and eat it while hot or make it the day before, refrigerate it overnight, and serve cold.
This recipe should keep for about 1 week in the refrigerator. You can double the recipes as it's the perfect leftover for lunch!
What to serve with it?
This kidney-friendly recipe is perfect just by itself. You can add a side of fruit such as grapes, apples, or mandarin oranges. It can also be served as a side dish to a veggie burger.
Other recipes you'll love
Low Sodium Roasted Red Pepper Hummus
Do you need more guidance with your kidney health? Work with me and discover how I can help you improve your kidney function! Click here for our Services Page to learn more about what we offer and book a call today!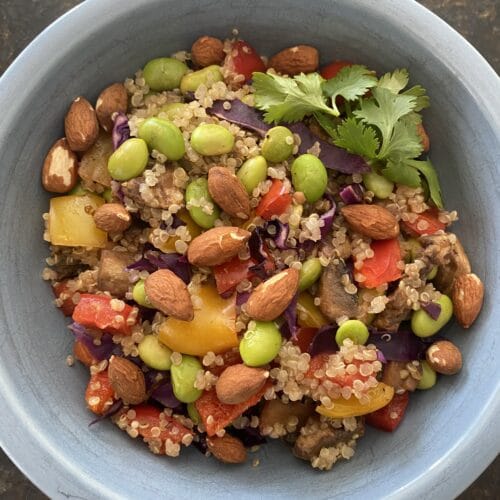 Ginger Lime Power Salad
This kidney-friendly power salad packs a punch of plant protein.
Ingredients
2/3

cup

quinoa, dry

or 2 cups cooked

2

tsp

sesame oil

2

cloves

garlic, minced

1

large

red bell pepper, diced

1

8oz

sliced mushrooms

1

cup

red cabbage, shredded

1 1/2

tbsp

coconut aminos

1

cup

edamame, shelled

1

tsp

ground ginger

or 2 tsp freshly grated ginger

1

med

lime, juiced

1

handful

cilantro

to mix in salad or garnish

1

tbsp

sliced almonds
Instructions
Prepare and cook the quinoa according to the package

While quinoa is cooking, saute garlic in sesame oil on medium heat in a large pan. About 3 minutes.

Add diced red pepper and cook for 7 minutes until soft.

Add sliced mushrooms, red cabbage, and coconut aminos to the pan and cook for 5 minutes or until mushrooms are soft.

Stir in cooked quinoa, edamame, ginger, lime juice, and cilantro.

Serve hot or store in the refrigerator to cool overnight and serve cold.
Nutrition
Serving:
3
g
Calories:
329
kcal
Carbohydrates:
44
g
Protein:
14
g
Fat:
11
g
Saturated Fat:
1
g
Polyunsaturated Fat:
3.4
g
Monounsaturated Fat:
3
g
Sodium:
274
mg
Potassium:
710
mg
Fiber:
6
g
Sugar:
10
g
Vitamin A:
2760
IU
Vitamin C:
88
mg
Calcium:
1000
mg
Iron:
3.3
mg