A Charcuterie board is traditionally a snack board or plate of cured meats. Nowadays it can have an array of cheeses, nuts, olives, crackers, and spreads. They're eye-catching and perfect for entertaining during the holidays, party, a relaxing night in, or a simple light meal.
Charcuterie boards are fun and festive, but the cured meats and cheeses are extremely high in sodium which can leave you feeling like a balloon the next day.
No worries! You can still have a delicious and beautiful charcuterie board while still loving your kidneys.
What You'll Need for a Charcuterie Board
You don't need any fancy tools to display a charcuterie board. Let the food be the feature here.
Serving Board
You'll need to start with a surface to display your charcuterie snacks. A wooden cutting board, large platter, or a rimmed baking sheet works well.
Serving Utensils
You can use specialty utensils, but fancy isn't necessary. Butter knives for spreads work well, small spoons for dips, small tongs for crackers and bread, and salad forks or toothpicks work great for serving fruit and vegetables.
Ramekins
If you have ramekins or small fruit bowls, jars, tea cups, silicone cupcake liners or any small dish work well to hold spreads and dips.
What To Put on a Kidney Friendly Charcuterie Board
The best charcuterie boards offer a variety of tastes, textures, and color. Something sweet, savory, crunchy, creamy. A little bit of everything makes it interesting.
Dips and Spreads
First you want to think of at least 3 different dips or spreads to feature on the snack board. You'll want to arrange these on the board first and place everything else that accompanies them around it.
Hummus (any flavor you love or homemade)
Bean dip
Apple butter
Jam or Jelly
Nut Butters
Honey
Neufatel cheese
Flavored cream cheese
Ricotta cheese
Goat Cheese
Brie
Low Sodium Crackers and Breads
Choose at least 2 varieties of crackers or breads. You can choose 1 cracker for a crunch and a bread for a soft texture.
Pita bread or chips
Wheat or nut crackers
Ezekiel bread cut into squares
Melba toast
Mini bagels
Low sodium tortilla chips
Low sodium pretzels
Kidney-friendly Vegetables and Fruits
Kidney friendly vegetables essentially means low potassium options. If you don't need to limit the amount of potassium in your diet, then choose a wide variety. You can't go wrong here. This is where you'll get the color on the charcuterie board so choose the rainbow!
Berries- blueberries, raspberries, blackberries, strawberries, cherries
Apples
Figs
Grapes
Pineapples
Plums
Dried fruit- figs, cranberries, raisins
Carrots- rainbow for color
Cucumbers
Green Beans
Jicama
Celery
Bell Peppers
Radishes
Sugar Snap Peas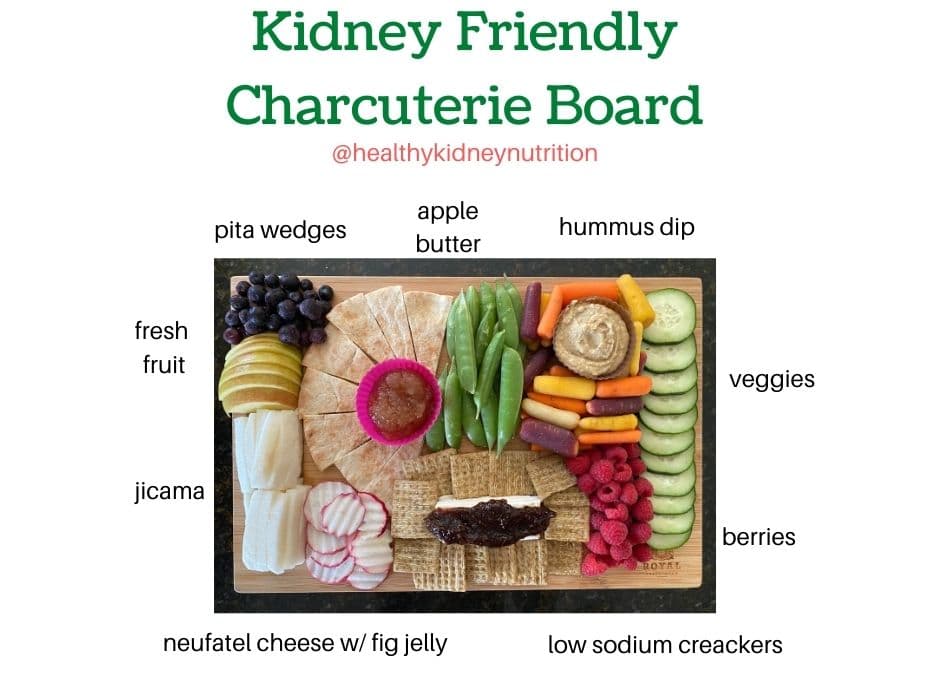 Other Items to Serve
Nuts and seeds are higher in potassium and phosphorus so use them as garnish and consume in small amounts. Peanuts, almonds, pecans, walnuts, pepitas, and sunflower seeds can add a great variety and crunch.
Serve in condiment cups to limit the amount you are tempted to consume.
Roasted chickpeas or pickled onions and other pickled vegetables will add to the variety of flavor and texture options to the snack board. You'll want to serve these in a bowl to keep the board clean and prevent flavors from invading into any of the other items on the board.
How To Assemble a Kidney Friendly Charcuterie Board
Prepare the dips and spreads. If you are making anything from scratch such as the hummus, dips, or roasted chickpeas you will want to prepare these first.
Cut the veggies, fruit, and bread on a separate cutting board.
Put the dips and spreads in designated serving bowls. You'll want to use an odd number of bowls as this is more aesthetically pleasing than an even number. Three different dips or spreads are ideal. Place them on the serving board with plenty of space in between.
Add the fruits and vegetables. If certain foods are meant to be served together such as hummus and vegetables, arrange them around each other.
Next place the crackers and breads to fill in the spaces. Arrange these around the board as desired or close to any item it would pair best with.
Finally, fill in any gaps with nuts and seeds if desired. It's okay to leave some of the board showing. Cut grapes into small bunches and arrange them around the board.
Make It Ahead
You can make the charcuterie board earlier in the day, cover and store in the refrigerator until ready to serve.
You may also want to keep extra items in containers to replenish as the night progresses.
Enjoy!
Need some kidney friendly snack ideas? You may like Renal Diet Snacks for CKD.
Blog post and recipes related to this post:
Low Sodium Roasted Red Pepper Hummus