Many processed meats like sausage, deli meats, bacon, and bologna are known to be high in sodium. Those with kidney disease are warned to avoid them.
This low sodium sausage recipe is a perfect way to enjoy sausage without consuming too much sodium. And it's easy to make!
What about Turkey Sausage?
Many pre-packaged sausages, even turkey sausage, are high in sodium but also have added potassium and phosphorus which aren't healthy for the kidneys.
Some packaged sausage brands have more than 400 mg of sodium in a serving.
This recipe has only 72 mg of sodium in a 2 patty serving! And it tastes great too.
Some additives to avoid that are most commonly found in packaged breakfast sausage include:
potassium lactate
sodium phosphate
monosodium glutamate (MSG)
sodium diacetate
caramel color
Kidney Health
Protein
This recipe is good for people with chronic kidney disease and for those on dialysis. It provides a good source of protein with 17 grams per serving.
Protein needs vary. Many people with chronic kidney disease need to limit protein in their diet. Those receiving dialysis will need more protein. Work with a Renal Dietitian to find out how much protein is right for you.
Sodium
People with other health conditions such as high blood pressure, heart disease and liver disease can also benefit from a low sodium diet. This recipe only has 72 grams of sodium per serving!
Potassium
Many people with chronic kidney disease need to limit potassium, especially those that are receiving dialysis treatments. Potassium needs are different from person to person. It's important to discuss this with a Renal Dietitian.
This recipe has 222 mg of potassium and contains no potassium additives.
Phosphorus
So many packaged foods have hidden phosphorus additives. This recipe doesn't have any added phosphates and contains only 130 mg of phosphorus per serving. All of the phosphorus in the recipe is natural coming from the ground turkey so you'll absorb even less.
Low Sodium Sausage
What You'll Need
In this recipe we use 93% lean ground turkey. The amazing flavor that sausage has is all about the seasonings, not the sodium.
The main spices we use are fennel, red pepper flakes, sage, and thyme. These low sodium spices are what gives sausage its savory flavor.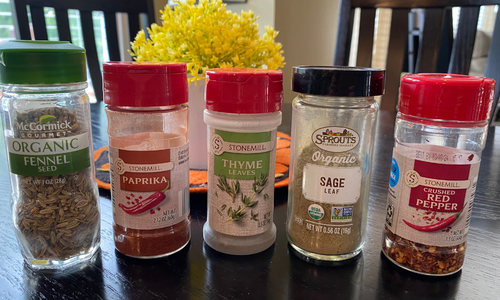 How to Make Low Sodium Sausage
This recipes is easy to make. Simply mix the spices together in a small bowl. Place the ground turkey in a mixing bowl and add the spices to the bowl.
Using your hands, mix the ground turkey with the spices until mixed well and the spices are evenly distributed throughout.
Divide the mixture into 10 evenly portions and roll the mixture between your hands to form a ball. Then press the mixture between your hands to form a patty.
Add the oil to the pan. When hot add the patties and cook for 3 minutes per side.
How to Serve Low Sodium Sausage
Enjoy the cooked patties immediately or you can freeze the uncooked patties. You can double this recipe or wrap extra patties individually with saran wrap, place them in a large zip lock back and store in the freezer. This makes it easy to pull out however many you want to unthaw and cook at a time.
Variations to Low Sodium Sausage
Instead of forming patties, you can also use the ground sausage to any dish that calls for ground sausage.
You can also use other ground meats instead of ground turkey such as:
Do you need more guidance on how to eat for your kidney health. Book a call with me today!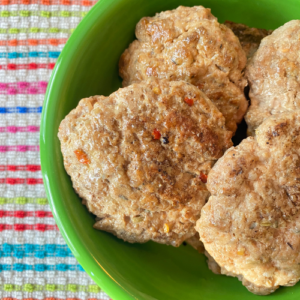 Low Sodium Sausage
This breakfast sausage is delicious and easy to make. It's perfect for those that need to follow a low sodium diet and it's packed with the classic breakfast sausage flavor without the salt!
Equipment
1 mixing bowl

1 12" skillet or griddle
Ingredients
1

pound

93% lean ground turkey

2

teaspoons

fennel seeds

2

teaspoons

dried ground sage

2

teaspoons

dried thyme

1/2

teaspoon

red pepper flakes

1/2

teaspoon

paprika

1/4

teaspoon

garlic powder

1/4

teaspoon

black pepper

1

Tablespoon

maple syrup

1

Tablespoon

olive oil

extra virgin
Instructions
Instructions

Heat olive oil in skillet or griddle on medium high heat.

Mix the spices together in a small bowl.

Place ground turkey in mixing bowl and add spice mix. Mix by hand until well combined.
For Patties
Divide evenly to make 10 patties. Roll in a ball and flatten into patties

Fry for 3-4 minutes each side until patties are cooked through.
For Crumbles
Heat skillet over medium high heat. Add sausage to pan and break into crumbles with a spatula. Stir frequently until sausage is cooked through.
To Freeze
Wrap patties in plastic wrap (cooked or uncooked). Transfer to a large zip lock bag. Store in the freezer for 3 months.

Defrost in the refrigerator overnight before using.
Notes
This recipes has 130 mg of naturally occurring phosphorus. No added phosphates. Feel free to adjust the seasonings to your taste preferences. You can substitute ground turkey for pork, chicken, or beef.
Nutrition
Serving:
2
patties
Calories:
172
kcal
Carbohydrates:
2
g
Protein:
17
g
Fat:
11
g
Saturated Fat:
2
g
Polyunsaturated Fat:
3
g
Monounsaturated Fat:
5
g
Trans Fat:
0.1
g
Cholesterol:
67
mg
Sodium:
72
mg
Potassium:
222
mg
Fiber:
1
g
Sugar:
1
g
Vitamin A:
241
IU
Vitamin C:
0.4
mg
Calcium:
38
mg
Iron:
2
mg