Finding a low sodium salsa can be a bit challenging. Many jarred salsas can have more than 200 mg of sodium per 2 tablespoons. Add in salty chips and you have a high sodium snack on your hands.
But you don't have to give up your favorite snack because you're following a low sodium diet. You can make fresh and healthy salsa at home without that unwanted added sodium. You'll be surprised how easy it is and it only has 37 mg of sodium per 1/4 cup serving!
Why Low Sodium Salsa
Ask anyone what their favorite foods are and there's a good chance many will say Mexican foods. With that, salsa is a staple in many household pantries. But many store bought salsas can have more than the desired amount of sodium in it.
The Food and Drug Administrations (FDA) defines a low sodium food to contain 140 mg of sodium per serving. Excess sodium can result in high blood pressure and increase risk of heart disease and stroke.
The American Heart Association (AHA) recommends limiting your sodium intake to 2,300 mg per day (1 teaspoon) and for those with a risk of heart disease and other chronic conditions to limit even more to 1,500 mg per day.
By choosing low sodium salsa and other food products, this can help you stay within those guidelines.
Low Sodium Store Bought Salsa
If you don't want to make your own salsa at home. Here are some store bought salsas that are low in sodium.
Newman's Own Mild Salsa– has 90 mg of sodium per 2 Tablespoon serving. Includes fresh ingredients and not a lot of additives
365 Whole Foods Thick and Chunky Mild Salsa– contains 140 mg of sodium per 2 Tablespoon serving size.
Ingredients
This low sodium salsa recipe has fresh and canned ingredients. All of the ingredients are low in sodium and easy to find at your local grocery store.
Fresh tomatoes
Red Onion
Garlic
Jalapeno
Cilantro
Lime Juice
Crushed Tomatoes
Green Chilies
Cumin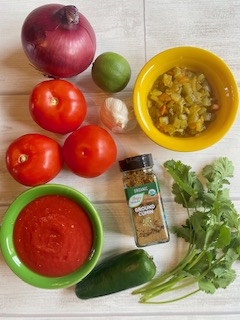 How To Make Low Sodium Salsa
Low sodium salsa is so easy and quick to make and way less sodium and additives than store bought. It's affordable too!
Simply place all the ingredients into a food processor. Pulse until desired texture is reached. This low sodium salsa tastes best if refrigerated for 1-2 hours so the flavors can marinate.
Variations
You can substitute some of the ingredients for this low sodium salsa for what you can find in your store or what you already have on hand at home.
Fresh tomatoes- Roma tomatoes are used in this recipe, but you can use home grown tomatoes, tomatoes on the vine, or beefsteak tomatoes.
Red onion- yellow, white, or even green onion would work well.
Jalapeno- if you like a little less heat, you can use a green bell pepper instead of jalapeno.
Cilantro- omit the cilantro or use parsley, mexican oregano, or thai basil instead.
Lime juice- fresh lime juice is used in this recipe but you can also use bottled.
Crushed tomatoes- use low sodium petite diced tomatoes or fire roasted tomatoes would be excellent with this as well. Be sure to choose the low sodium versions.
Green chilis- omit this if desired.
Cumin- chili powder or paprika work well.
How To Store
This recipe can be made and stored in an airtight container for up to 10 days or freeze for up to 4 months. You can make it 2 hours before serving since it tastes best after the flavors have time to marinate.
What To Serve With Low Sodium Salsa
This recipe can be served as an appetizer with tortilla chips, burritos, tacos, taquitos, any Mexican dish and atop of eggs. Make this recipe anytime you want a fast, fresh, and healthy salsa. You'll definitely love this recipe!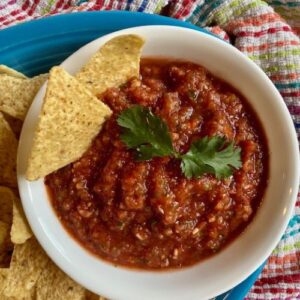 Low Sodium Salsa
Salsa is one of those condiments that is so easy to make. It only takes about 5 minutes and you can make this as mild or spicy you want. Lots of flavor. No added salt! That's a win-win in my book.
Equipment
1 food processor or blender
Ingredients
3

roma tomatoes

1

red onion

3

gloves

garlic

2

jalapenos

1/2

cup

cilantro

or a handful

1

lime

juiced

2

teaspoons

cumin

15

oz

canned crushed tomatoes

1

4 oz

canned green chilis
Instructions
Place all ingredients in a food processor or blender. Pulse quickly until desired texture.
Notes
This low sodium salsa recipes taste best after it's been refrigerated for a few hours which allows for flavors to marinate. 
Store in an airtight container for 1 week or freeze for up to 4 months.
Nutrition
Calories:
16
kcal
Carbohydrates:
4
g
Protein:
1
g
Fat:
0.2
g
Saturated Fat:
0.02
g
Polyunsaturated Fat:
0.1
g
Monounsaturated Fat:
0.1
g
Sodium:
37
mg
Potassium:
132
mg
Fiber:
1
g
Sugar:
2
g
Vitamin A:
212
IU
Vitamin C:
8
mg
Calcium:
16
mg
Iron:
1
mg
Other Low Sodium Recipes