The following testimonials are real clients that worked with Katie to improve their kidney health.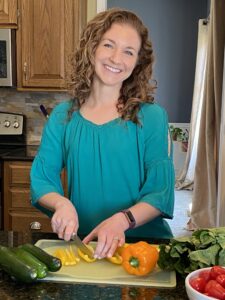 I was struggling with Stage 4 CKD, my diet was bad, and I needed to be more active. None of the doctors I worked with told me the things I needed to do to turn my kidney health around. I found Katie through my own digging online. She told me things that my Dr's didn't cover with me. I think that made the biggest impact on my better lab numbers. After working with Katie, I went from stage 4 to stage 3 CKD. Almost doubled my GFR. I know that my change in diet made a big difference in my lab numbers. Someone who has CKD should be sent to someone that has experience with kidney problems and their diet. Nothing bad could come from working with Katie, only good things could come from the information you can learn. Going from stage 4 CKD to stage 3 CKD after seeing Katie, that's great.
"I had a big fear of eventually having to go on dialysis, confusion with phosphorus in food, and problems finding enough to eat as I have other diet restrictions besides renal diet. I was scared, confused, and overwhelmed at trying to do all my own research. Katie guided me and helped me find answers to the questions I'd had for years. She helped me build a diet plan that was healthier and much more satisfying than I'd had in the past 11 years! I feel less scared about the future. I certainly enjoy my food more as I have more options. I had a very personable, down to earth expert on my team that actually listened to me and answered my questions instead of just shoving pamphlets at me. Katie is by far the BEST that I have run across!!! I really like it that she is so easy to talk to and isn't watching the clock or talking like she's reciting stuff to you that she learned from a textbook. Katie really listens, treats you like a real person, and not like a time slot to get through."
"My doctor informed me after recent labs that I had renal insufficiency. I was quite shocked. I certainly didn't want to end up on dialysis. I was completely overwhelmed. I did research on the internet and soon discovered that I should have a renal dietitian. That's when I found Katie. She is very personable, positive attitude and helpful. She understands what a person is going through and explains things and answers questions in terms that a lay person can understand.I just had my 3 month labs drawn. EVERYTHING was normal, cholesterol, triglycerides, glucose, A1c, Bun, Creatinine, and my eGFR went from 35.6 to 63.8. I have 3 grandchildren that I love dearly and I want them to have a healthy grandma. I can't believe the change it is making in my health. Even though I still am adjusting to the new tastes, I know this is what I need to do. And it wouldn't have happened if I hadn't sought out a reputable dietitian. I would recommend Katie to everyone. She is fantastic! Don't hesitate. This is probably the most important thing you can do to improve your condition."
"I was struggling with getting reliable suggestions to meet my husband's lab readings. We were feeling frustrated, despairing, overwhelmed. After working with Katie we felt relieved, confident, and grateful. Her understanding of our need and the ease in which she brought help to the table. Mike appreciated the recipes and suggestions that gave us broader choices. You will love Katie. She listens to your needs and offers solid help with reasons for her suggestions. While Mike needed to begin dialysis because of covid bringing decline on his body, Katie was such a help to us and he improved on her recommendations. She was so very helpful and I doubt we could have had better help."
Book a Discovery Call with Katie
I would love for you to be my next successful and satisfied client. Let's chat and see if I can help you with your kidney health goals!